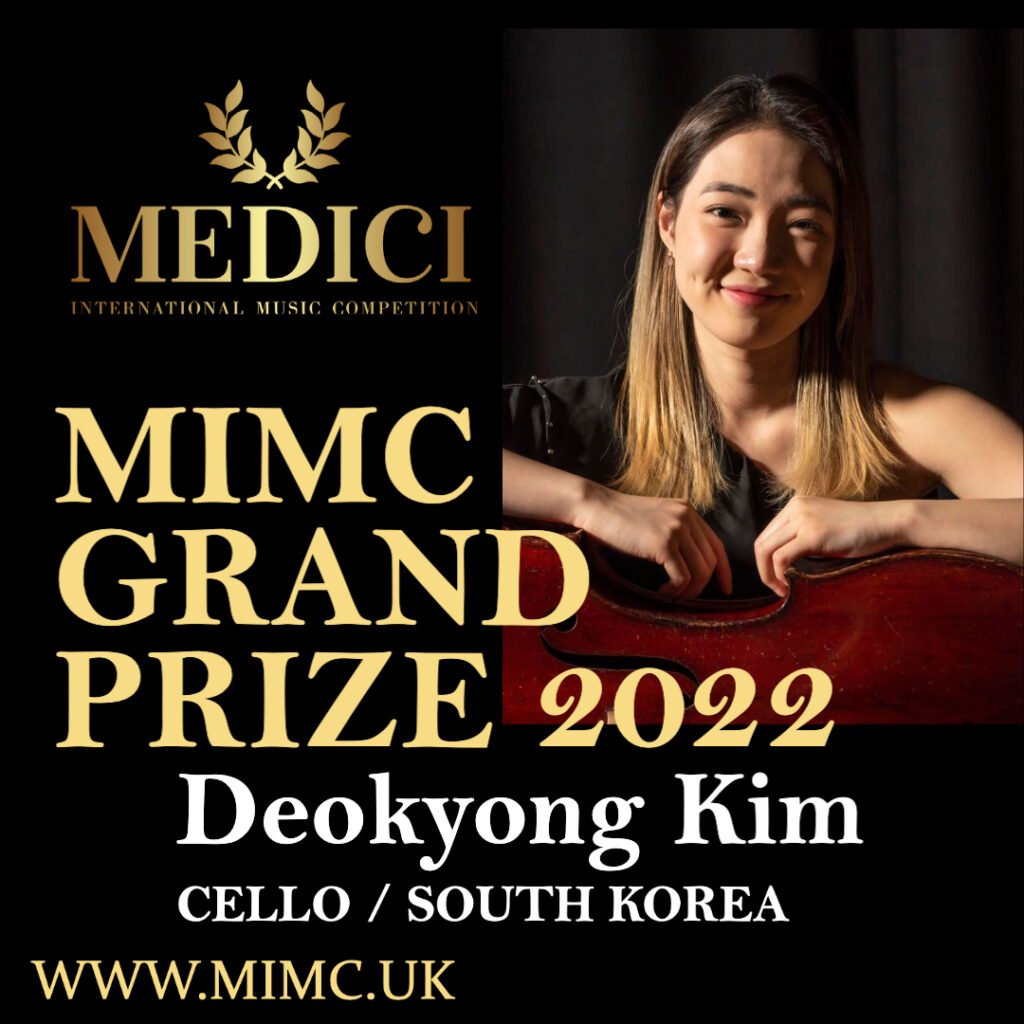 South Korean cellist Claire Deokyong Kim earned her Bachelor of Music degree at New England Conservatory in the studio of Lluis Claret and is now pursuing the master's program in the studio of Laurence Lesser. Kim previously studied with Myungwha Chung for 4 years prior to coming to NEC.
In her first year of Bachelor of Music, Kim won the NEC Lower String Competition and was subsequently selected to perform Shostakovich Cello Concerto No.1 with the NEC Philharmonia Orchestra under Hugh Wolf at Jordan Hall. In 2018, she won the Tecchler-Forster Cello Competiton in which she was awarded a Tecchler cello (1711) for a year.
Kim has won numerous competitions in Korea including the grand prize at the Seoul Arts Center Musical Prodigy Competition, Sungjung Competition, Strad Competition, Yejin Artist Music Competition, and Eumyeon Competition. She was the youngest competitor to win the Boroondara Eisteddfod Australia String Solo.
As a soloist, Kim has performed many concerts, including her debut in the Kumho Foundation Prodigy Solo Concert in South Korea and Rising Star Concert at Great Mountains Music Festival. She has also performed with numerous orchestras such as the NEC Philharmonia Orchestra, Suwon Philharmonic Orchestra, Gangnam Orchestra and Korean Symphony. In 2018, Kim performed a live concert on NPO radio 4 in Amsterdam.
In addition to her appearances as a soloist, Kim has performed in piano trios, string quartets, and 12 Cellos at the Kumho Art Hall. As a chamber musician, Kim was a cellist in the string quartet 'Quartet Primo,' which won first place in the Seoul Young Adult Chamber Music Competition. While studying at the New England Conservatory, Kim has been a member of string quartets that have been selected as Honors Ensemble at New England Conservatory for 2018-19 'Nico string quartet', and 2021-22 'Tavola string quartet'. Kim served as principal cellist of the NEC Chamber Orchestra during the 2021-22 season.
In addition to her private studies, Kim has appeared in masterclasses with cellists Frans Helmerson, Gautier Capucon, Jian Wang, Joel Krosnick, Hans Jensen, Clara Minhye Kim, Henri Demarquette, Ole Akahoshi, and Tilmann Wick.